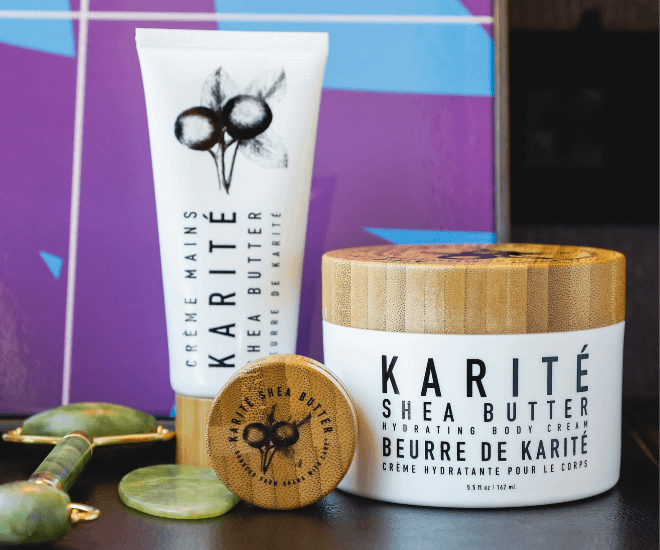 THE KARITÉ DIFFERENCE
From luxury retailers to mainstream drugstores, you can find shea butter—and other similar butters, like cocoa butter—in many different formulations and price ranges. Shea butter products come at various price points for a reason: The drugstore brand products actually have a very low concentration of shea butter.
Karité creams, however, have high concentrations of shea butter compared to other products. With 30% shea butter, our body cream has one of the highest—if not the highest—concentrations on the market today.
When you buy a shea butter lotion at the drugstore, you'll likely see all kinds of ingredients you can't pronounce. These are often chemical additives, preservatives and synthetic fragrances that are used to make up for the loss of shea butter's natural aroma in highly-processed and refined products.
On the other hand (no pun intended!), we know exactly what goes into our Crème Mains hand cream and Crème Corps body cream: Shea butter, organic coconut oil, sustainably sourced palm oil and other beautiful, natural botanicals. No dyes, silicones, artificial fragrances or parabens here. Partnering with women-run farming co-ops in northern Ghana allows us to know exactly where and how our shea nuts are processed, meaning we can track our butter from tree to tub.